You are here:
Your Eyes / Fuchs' Dystrophy
Fuchs' Dystrophy
The cornea is maintained in a state of relative dehydration by an important layer of pump cells lining the back surface called the corneal endothelium. If this cell layer fails, the cornea absorbs water from inside the eye like a sponge, becoming waterlogged and misty. The medical term for this waterlogging is corneal oedema.
If you are starting to develop corneal endothelial failure, you might notice morning misting – misty vision first thing in the morning. This misty vision takes longer to clear with time, as corneal endothelial pump function deteriorates. Without treatment, you will eventually find that the vision is blurry all day. You may also have intermittent stinging pain caused by tiny blisters forming on the eye surface.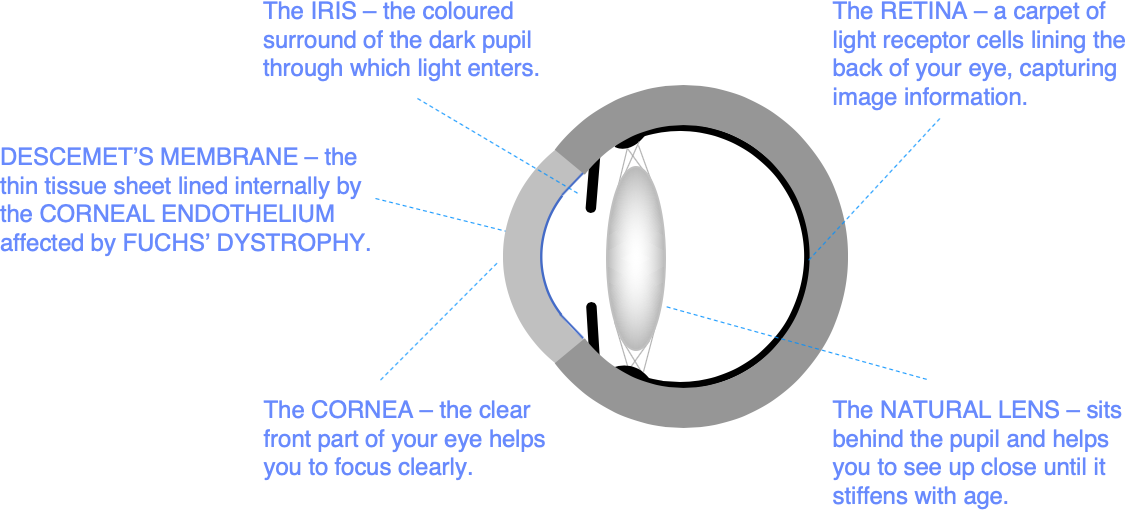 Fuchs' Corneal Endothelial Dystrophy is a relatively common inherited condition in which corneal endothelial function declines at a faster than normal rate. If you have Fuchs' dystrophy, you may start to experience morning misting, and you may need a corneal transplant to restore a healthy corneal endothelium and clear vision. The age at which morning misting becomes a problem varies greatly, and many patients with Fuchs' Dystrophy are either never affected, or only affected late in life.
You may also have problems with glare and light scatter. This is because Fuchs' dystrophy also affects a very thin layer called Descemet's membrane which supports the endothelial cell layer. You can think of Descemet's membrane as the underlay for the carpet of endothelial cells lining the back of the cornea. Descemet's membrane is normally smooth and clear. But it becomes more like a cobbled street in Fuchs' dystrophy, as the abnormal endothelial cells leave behind bumpy deposits called guttata that scatter light. A few guttata are no problem, but dense guttata in later stage Fuchs' dystrophy can cause disabling glare.
Corneal guttata are often noticed in a routine eye examination – up to 4% of people have at least some signs of Fuchs' dystrophy, but many patients are only very mildly affected, and never require any treatment.
You don't have to have Fuchs' Dystrophy to have corneal endothelial failure. Other common causes of endothelial cell loss are eye injury and any form of surgery on the inside of the eye. After cataract surgery for example, we typically lose at least 5% of our corneal endothelial cells. This is usually no problem; but if you have Fuchs' dystrophy and you are already running out of endothelial cells, cataract surgery may result in the need for a corneal transplant.
Treatments for Fuchs' Dystrophy
We can now treat Fuchs' dystrophy effectively at a much earlier stage than was previously possible using keyhole corneal transplantation techniques that can be combined safely with cataract surgery.
We will advise you about which procedure would suit you best at your initial consultation.
Here are some of the options:
Descemet stripping endothelial keratoplasty (DMEK) – this is now the default option for treating problems with Fuchs's dystrophy including morning misting and disabling glare.
Descemet stripping only (DSO) – this minimalist approach is suitable where the problem area is confined to the back of the central cornea.
Descemet stripping automated endothelial keratoplasty (DSAEK) – this operation is still widely performed but has largely been superseded by DMEK
Penetrating keratoplasty (PK) – the original full-thickness corneal transplant technique can still be the best option if problems with your cornea are not confined to the back layers
Look under Procedures for more detailed further information on these treatments.
Preparing for your consultation
If you are a soft contact lens wearer, you should leave your contact lenses out for 3 days before your consultation. Rigid contact lenses should be left out for 2 weeks. Contact lens wear can temporarily change the surface shape of your cornea. We ask you to leave your contact lenses out to help ensure that scan information we will use to guide your treatment is as accurate as possible.
You will normally be with us for 1-2 hours to allow time for scanning, refraction testing, eye health screening and procedure advice. There is usually some waiting between stages of the consultation, so bring something to read or to listen to.
We often dilate your pupils to help examine the back of your eye. This can make driving more difficult for several hours afterwards. Parking is restricted in central London. So, we would recommend travelling to us using public transport or taxi.
The nearest tube station is OLD STREET (Northern Line).
Appointments and enquiries
To arrange a private consultation, please telephone Angelique Thomas on 020 7566 2156 or 07484 081815 (or from outside the UK +44 20 7566 2156 or +44 7484 081815) or email moorfields.ballan@nhs.net
For NHS treatment with Mr Allan's team at Moorfields, you will need a referral from your GP or Ophthalmic Surgeon. Referrals should be addressed to Mr Bruce Allan, Consultant Ophthalmic Surgeon, Moorfields Eye Hospital, City Rd, London EC1V 2PD. If you have any difficulty with your NHS referral, please call Barbara Stacey, NHS secretary to Mr Allan on 020 7566 2320, or email barbarastacey@nhs.net.