Keratoconus
Keratoconus is a common cause of poor vision in young people caused by a progressive abnormality of corneal shape.
The cornea is the clear part of the front of the eye wall. You need a regular corneal curvature to help focus light accurately through the eye onto the retina.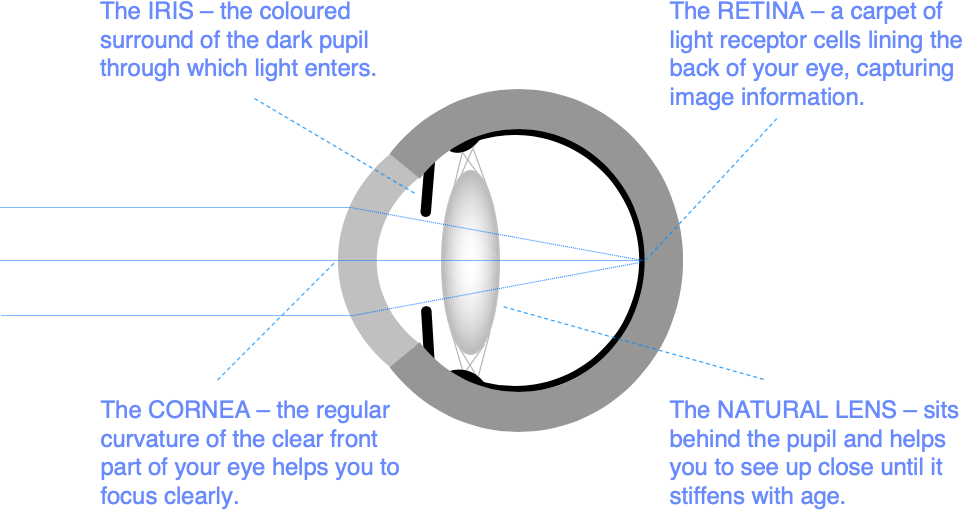 In keratoconus, your cornea gradually bulges forwards, becomes thinner, and more irregular. It typically gets worse in the teenage years and through your 20s, before stabilising in your 30s. Although it is genetically determined, only about 10% of people with keratoconus have another affected family member, and one eye is often worse affected than the other.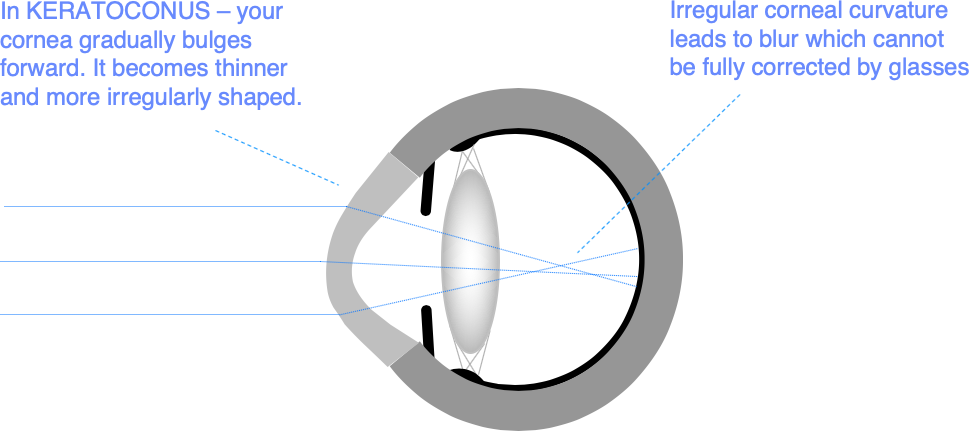 Treatment for Keratoconus
The aims of treatment in keratoconus are twofold: we need to stabilise corneal shape, and improve your vision.
We monitor your corneal shape using specialised 3-D corneal imaging scans (corneal tomography). Computer comparisons of corneal shape scans taken at different timepoints can tell us whether your corneal shape is stable. Corneal tomography can also help us to diagnose keratoconus accurately before it becomes a problem for your vision.
Eye rubbing, often in the background of longstanding problems with allergy and itchy eyes associated with eczema, asthma or hay fever, is thought to make keratoconus worse. So, the first step in treatment is to avoid rubbing your eyes and treat any underlying problems with allergy and eye surface comfort.
Once we have optimised your eye surface health, a range of treatments is available to suit early, moderate and advanced keratoconus. We can advise you about which treatment pathway would suit you best at your keratoconus consultation.
Here are some of the options:
Corneal shape monitoring – serial corneal 3-D scans of your corneal shape to make sure that you are not getting worse. If you have no special risk factors for keratoconus progression, and your vision in glasses or contact lenses is good, this may be all you need

Specialised contact lens fitting – many keratoconus patients find that contact lens wear is a good solution to poor quality vision in spectacles

Corneal crosslinking (CXL) – if you are at a high risk of deteriorating, or we have evidence from shape monitoring that your keratoconus is deteriorating, CXL is the next step

Corneal crosslinking combined with TransPRK (TransPRK/CXL) – if you are already having problems with vision in glasses, we often combine CXL with a form of laser vision correction called wavefront-guided TransPRK designed to regularise your corneal shape

Intracorneal ring segment (ICRS) implantation – lasers are effective in fine tuning corneal shape, but for more advanced keratoconus, ICRS implantation can avoid the need for a corneal transplant

Corneal transplantation – for advanced keratoconus, when the other options have failed, specialised transplantation techniques to give your cornea a fresh start can be highly effective

ICL implantation – if your corneal shape is stable and you have good quality vision in spectacles after the treatments above, you can complete your visual rehabilitation with ICL implantation to correct the need for glasses.
Look under Procedures for more detailed information on these keratoconus treatments.
Preparing for your consultation
If you are a soft contact lens wearer, you should leave your contact lenses out for 3 days before your consultation. Rigid contact lenses should be left out for 2 weeks. Contact lens wear can temporarily change the surface shape of your cornea. We ask you to leave your contact lenses out to help ensure that scan information we will use to guide your treatment is as accurate as possible.
You will normally be with us for 1-2 hours to allow time for scanning, refraction testing, eye health screening and procedure advice. There is usually some waiting between stages of the consultation, so bring something to read or to listen to.
We often dilate your pupils to help examine the back of your eye. This can make driving more difficult for several hours afterwards. Parking is restricted in central London. So, we would recommend travelling to us using public transport or taxi.
The nearest tube station is OLD STREET (Northern Line).
Appointments and enquiries
To arrange a private consultation, please telephone Angelique Thomas on 020 7566 2156 or 07484 081815 (or from outside the UK +44 20 7566 2156 or +44 7484 081815) or email moorfields.ballan@nhs.net
For NHS treatment with Mr Allan's team at Moorfields, you will need a referral from your GP or Ophthalmic Surgeon. Referrals should be addressed to Mr Bruce Allan, Consultant Ophthalmic Surgeon, Moorfields Eye Hospital, City Rd, London EC1V 2PD. If you have any difficulty with your NHS referral, please call Barbara Stacey, NHS secretary to Mr Allan on 020 7566 2320, or email barbarastacey@nhs.net.